*Contains Spoilers for the series*
I had never quite gotten into the US edition of RuPaul's Drag Race, mainly as I wasn't sure where to start! 11 seasons is fairly daunting for a new comer to the show! My drag race obsessed friend convinced me that I needed to watch the UK version and I'm sure glad I did!
RuPaul's Drag Race UK has to be one of the most different BBC programmes in a long time! As Baga Chipz (my fave Queen of the series) says in one episode "this is not the BBC I grew up with!". Baga Chipz delivered the series most iconic line as Becky the maid in the drag parody of Downton Abbey, Downton Draggy. "Much Betta" Baga/Becky exclaims after successfully wrapping Lady Carey's dead lover up in a rug (dark!), Baga/Becky swinging her fist as she delivers the now infamous line. Her Rainy Day runway look was brilliant with the rubber duck on her head, perfection. Baga really shone in the snatch game episode where the queens were tasked with impersonating famous celebrities with Baga embodying a red eyed Maggie Thatcher with hilarious lines like "thank you, thank you bring on Brexit!" and ofc "the Lady is not for turning!"
Divina De Campo was another stand out, I absolutely loved her high fashion laundry bag jump suit outfit complete with Parasol! Boasting a powerful 4 octave range, acting and sewing skills, Divina was a true triple threat!
The series spawned a hit single with Break Up (Bye Bye) by The Frock Destroyers, band made up of the queens, Baga Chipz,Divina De Campo and Blu Hydrangea. The song features some crazy high whistlenotes from Divina at the beginning and Baga's "Much Betta!" catchphrase. All three queens did a great job on the track which also won the girl group challenge.
Cheryl Hole was another one of my faves, an Essex queen with a passion for death dropping! She may have been shady in her to the camera moments but came across as very sweet and genuine with the other girls. Also just a very entertaining person to watch!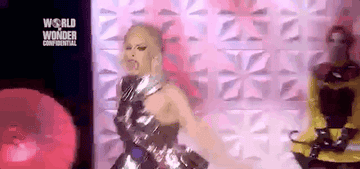 Other highlights of the series for me were Sum Ting Wong's Bullring look and Postage Stamp Queen Elizabeth inspired look, The Vivienne's impeccable Trump impression on snatch game and Blu's rainy day look! (her make up was incredible)
In the end it was The Vivienne that was crowned the first UK's drag superstar, with Baga coming in 3rd place and Divina 2nd.
Congrats to The Vivienne and roll on Season 2!